This report will dive into the correlation between several key real estate metrics that can greatly impact your selling experience. By analyzing this data, you will gain valuable insights into the market conditions for the Sky Country 91752 tract in the city of Jurupa Valley as of August 2023, and how those conditions may affect the selling of your property.  See the map below.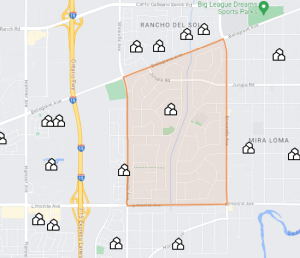 Active Listings for Sale:
Total Active Listings: 3
Median List Price: $999,000
Median Living Square Ft.: 2,361 sq. ft.
Median Dollars per Square Foot: $463
For August 2023, there were 3 active listings in the Sky Country tract of homes.   Of the 3 listings, the median list price was $999,000.    This is an unusually high number because one particular home was listed for $1.3 million, which caused the median list price to jump up.  The particular home was withdrawn from the market in early September.
Remember, the median is the middle value in a list of numbers. When the numbers are arranged in order, if there's an odd amount of them, the median is the one in the middle. If there's an even amount, the median is the average of the two middle numbers.
When we analyze the August 2023 median list price ($999,000) in relation to the median square footage of the listed homes, the approximate value of each is  $463 per square foot.  This metric  gives sellers and potential buyers an idea of the current asking prices within the Sky Country tract of homes.
Inventory:
Month's Supply of Inventory: 1.07
Change from Last Month: -25.2%
12 Month Change: -45.7%
Clearly the market is currently facing a tight inventory, with just over a month's supply of homes for sale  available.   The "Month's Supply of Inventory," which stands at 1.07 for August 2023 for the Sky Country tract of homes. This metric represents the number of months it would take to sell all the available homes on the market, given the current sales pace. A lower number indicates a seller's market, where demand outweighs supply. In this case, the low value suggests that there is a shortage of available homes for sale, creating a favorable environment for sellers.
August's inventory supply of homes for sale is a significant decrease from July 2023, down by 25.2%, and an even larger decrease from the same period last year, down by 45.7%. This indicates a sellers' market, where demand greatly exceeds the current supply of homes for sale. The reduction in inventory suggests that homes in this tract are in high demand, potentially leading to increased prices and faster sales. As a seller, this means that your property is likely to attract more attention due to limited options for buyers in the market.
Sold Listings:
No. of Homes Sold: 3
List to Sold Price %: 103%
Median Days on Market: 6
Median Sold Price: $770,000
Median $$ per Square foot: $470
The "number of listings sold" for August 2023 is 3, which matches the current active listings, indicating a turnover rate that is contributing to the low inventory levels.
We have the "Median Days Homes are On the Market," which currently stands at just 6 days. This metric measures the average number of days it takes for a home to sell after being listed. With such a short timeframe, it is clear that properties are moving quickly, further highlighting the strong demand and limited inventory. As a seller, this means that you can expect a swift sale if your home is priced competitively and marketed effectively.
Next, we have the "List to Sold Price Percentage," which sits at an impressive 103%. This metric compares the final sale price of a property to its original listing price. A percentage above 100% indicates that homes are selling for more than their initial asking price, showcasing the competitive nature of the market. As a seller, this means that you have the potential to receive offers that exceed your expectations, maximizing your return on investment.
Finally, we come to the "Median Sold Price," which was $770,000 for August 2023. This metric represents the middle point of all the sold prices in a given period. With a relatively high median price, it suggests that buyers are willing to pay a premium for desirable properties in the current market. As a seller, this means that you have the opportunity to capitalize on the strong demand and potentially secure a favorable selling price.
Overall, the correlation between the above real estate metrics for the Sky Country tract of homes paints a picture of a highly competitive market with limited inventory and strong buyer demand. As a seller you can expect a quick sale, potentially receiving offers that surpass your initial asking price. It is crucial to price your property competitively and work with a knowledgeable and trusted real estate advisor who can guide you through this dynamic market as well as the complex selling process.
I would love to talk with you about what you've read here and help you with any questions you might have. You can call or text me today at 951.990.3998.
Manny Barba, BROKER-ATTORNEY-REALTOR®