Jurupa Valley 91752
Residential Real Estate Market Update
September 2023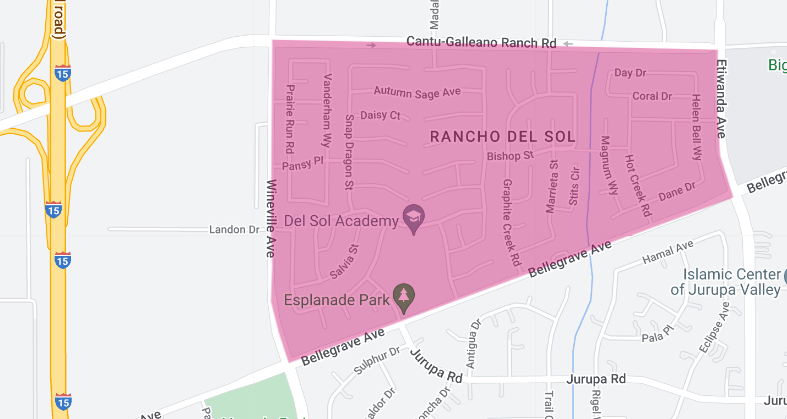 Area of Focus: 18 – Mira Loma – Rancho Del Sol (See Map)
The following residential real estate market update report for the end of September 2023 in the Rancho Del Sol area, in the City of Jurupa Valley. Rancho Del Sol comprises three similar, distinguished developments.  Here's an overview of the current market metrics, analyzed to offer insights that can guide your real estate decisions.
End of Month Active Listings:
There were 3 active listings at the end of September, a substantial reduction of 80.0% compared to the same period last year. This pronounced decrease illustrates a highly competitive market, characterized by limited availability and increased demand.
New Listings:
In September, there were 2 new listings, marking a 33.3% decline from the previous year. This reduction accentuates the competitive nature of the market and the urgency for prospective buyers to act swiftly.
Months Supply of Inventory:
Currently, there is a 1.3 months supply of inventory, down by a significant 69.8% from last year. This indicates that homes are being snapped up quickly, and potential buyers should be prepared to make prompt decisions.  Remember, this metric represents the number of months it would take to sell all the available homes on the market, given the current sales pace. A lower number indicates a seller's market, where demand outweighs supply.
Closed Sales:
There were no closed sales reported for the month of September.
Average Days on Market:
No data for September.
List to Sold Price %:
No data for September. ,
Average Sales Price:
No data for September.
Average Price per Square Foot:
No data for September.
Sales Overview for the Last 6 Months:
In the past six months, 12 homes were sold in the Rancho Del Sol area, with an average sales price of $859,583.
Summary:
The Rancho Del Sol area continues to be a popular residential area in Jurupa Valley. The current market shows that demand is significantly outstripping supply, indicating a favorable condition for sellers and a competitive environment for buyers.
With limited inventory and a reduction in new listings, prospective homeowners and investors are encouraged to monitor this area.
For expert guidance, strategic insights, or a detailed and personalized analysis of your home, or if you have any questions, feel free to contact me.  I am committed to providing accurate and updated information to assist you in all your real estate needs.
Manny Barba
Broker-Attorney-Realtor®
951-990-3998
mail@mbliverealty.com
MB Live Realty, Inc.
www.mbliverealty.com
Note: All data in this report is from California Regional Multiple Listing Service (CRMLS) All information should be independently reviewed and verified for accuracy. This report is for informational purposes only and not intended as financial or investment advice.