Jurupa Valley 92509
Residential Real Estate Market Update
September 2023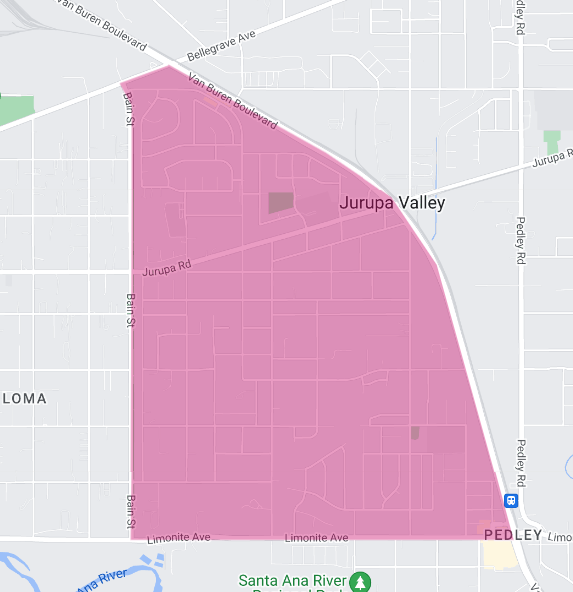 Area of Focus:
11- W of Van Buren-N of Limonite-E of Bain (See Map)
This residential real estate market update for September 2023, tailored specifically for the residential area west of Van Buren Blvd and north of Limonite Ave in Jurupa Valley. This analysis aims to empower homeowners, buyers, and investors with the insights needed to make informed decisions.
End of Month Active Listings:
The month concludes with 5 active listings, representing a significant 77.3% decrease from a year ago. This steep decline underscores a constricted housing inventory.
New Listings:
A total of 3 new listings emerged, marking a 76.9% drop from the previous year, supporting the trend of limited residential property availability.
Months Supply of Inventory:
The inventory has shrunk to a mere 1.0 month supply, an 80.8% reduction year-over-year, indicating a seller's market marked by quick sales.
Closed Sales:
We recorded 3 closed sales, which was a 25.0% decline from last year, reflective of the limited inventory.
Average Days on Market:
Homes now take an average of 12 days to sell, a 71.4% increase from last year, indicating that buyers are taking a slightly more measured approach in this area.
List to Sold Price %:
Properties are achieving 102.8% of the listing price, a 5.4% uptick from the previous year, signaling strong buyer demand and a competitive market.
Average Sales Price:
The average sales price is $592,500, an 8.7% decline from last year, indicating a market readjustment and possible increased buyer negotiation power.
Average Price per Square Foot:
 Counteractively, the average price per square foot has risen to $442, marking a 9.1% growth, highlighting the complex interplay of market dynamics.
Summary:
September has fewer homes for sale, but they're selling for more than their listed prices. Even though there's less inventory, homes are taking longer to sell and are selling for less on average. This shows a changing market, which sometimes favors sellers but the market could also be moving in the buyers direction.
Looking Ahead:
Sellers are in a market with fewer properties. It's crucial to price homes right because they're taking longer to sell and are selling for less on average. Having a good offer that matches the market is important.
For buyers, even though it's a competitive market, there are chances to
negotiate. The average sales price has gone down despite fewer homes being available. However, being ready to move quickly is vital due to the high competition.
As the year goes on, watching the relationship between the number of available homes, their prices, and buyer interest will help in making smart decisions in the property market.
For expert guidance, strategic insights, or a detailed and personalized analysis of your home, or if you have any questions, feel free to contact me.  I am committed to providing accurate and updated information to assist you in all your real estate needs.
Manny Barba
Broker-Attorney-Realtor®
951-990-3998
mail@mbliverealty.com
MB Live Realty, Inc.
www.mbliverealty.com
Note: All data in this report is from California Regional Multiple Listing Service (CRMLS) All information should be independently reviewed and verified for accuracy. This report is for informational purposes only and not intended as financial or investment advice.