Jurupa Valley 92509
Residential Real Estate Market Update
September 2023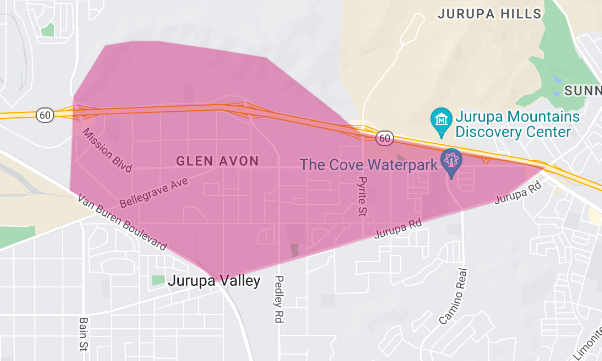 Area of Focus:
10- Glen Avon-NE of Van Buren-N of Jurupa Rd (See Map)
The following residential real estate update for September 2023, crafted to offer insights on the current residential real estate dynamics in the specific area of Glen Avon in the City of Jurupa Valley. The data presented illustrates the unfolding trends, enabling homeowners, potential buyers, and investors to make informed decisions.
End of Month Active Listings:
September concludes with 11 active listings, marking a steep 47.6% reduction from the previous year. This decline emphasizes the diminishing housing supply.
New Listings:
There were 6 new entries to the market this month, compared to 9 a year ago. The decrease in new listings aligns with the overall reduction in active listings.
Months Supply of Inventory:
The supply of homes stands at 2.1 months, a 41.7% decline from last year, indicative of a tightening market with accelerated sales pace.
Closed Sales:
3 sales closed this month, a 25% dip compared to last year, attributable to the reduced inventory and heightened competition among buyers.
Average Days on Market:
Properties are listed for an average of 13 days before selling, a 62.5% increase from the previous year, suggesting a slight slowdown in the sales velocity.
List to Sold Price %:
The average sold price is at 100.9% of the listing price, a minor 0.3% decrease from last year, indicating a stable, yet competitive market.
Average Sales Price:
Home values are witnessing an uptrend, with the average sales price escalating to $761,667, marking a robust 28.6% annual growth.
Average Price per Square Foot:
Contrastingly, the average price per square foot is $322, reflecting a 20.3% reduction from the previous year, suggesting a market variation influenced by the types or sizes of homes sold.
Summary:
The real estate landscape in the Glen Avon area is characterized by contracting inventory, evidenced by reduced active and new listings and a condensed months supply of inventory. Despite this, a substantial appreciation in average sales prices underscores the persistent demand of homes in this area.
Longer time on the market, combined with rising prices, shows that unique strategies are needed for both buyers and sellers.
Looking Ahead:
Sellers are navigating a favorable terrain, with property values appreciating notably. However, strategic pricing remains crucial to capitalize on buyer demand considering increased days on market.
For buyers, the arena is competitive, given the shrinking inventory. Preparedness, including financial pre-approval and flexibility in offer terms, will be pivotal in securing desired properties.
For expert guidance, strategic insights, or a detailed and personalized analysis of your home, or if you have any questions, feel free to contact me.  I am committed to providing accurate and updated information to assist you in all your real estate needs.
Manny Barba
Broker-Attorney-Realtor®
951-990-3998
mail@mbliverealty.com
MB Live Realty, Inc.
www.mbliverealty.com
Note: All data in this report is from California Regional Multiple Listing Service (CRMLS) All information should be independently reviewed and verified for accuracy. This report is for informational purposes only and not intended as financial or investment advice.