Jurupa Valley 92509
Residential Real Estate Market Update
October 2023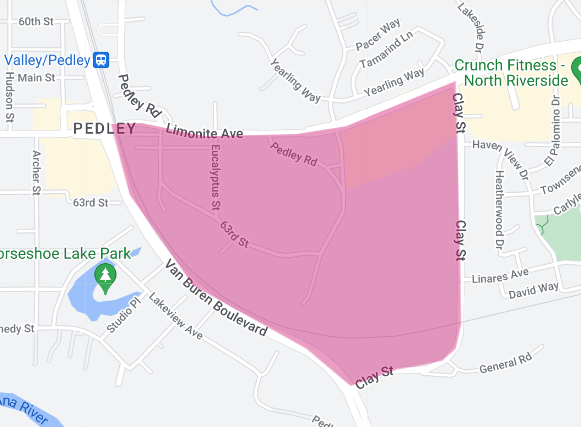 Area of Focus:
7- E of Van Buren-S of Limonite-W of Clay (See Map)
This report ending October 2023 provides an overview of the residential real estate market in this Pedley residential area, including a comparative analysis with the data from September 2023.  October metrics are the same as September 2023.
End of Month Active Listings: 0
There are currently no active listings in this market area.
New Listings: 0
No new homes were listed in October.
Months Supply of Inventory: No Data
Unable to calculate the month's supply of inventory due to no active or new listings.
Closed Sales: 0
No sales were closed in October, underscoring the current stagnancy in the market.
Average Days on Market: No Data
With no new or active listings, the average days on market cannot be calculated.
List to Sold Price %: No Data
As there have been no recent sales, this metric is currently unavailable.
Average Sales Price: No Data
We lack recent data for this metric due to no sales occurring in the specified period.
Average Price per Square Foot: No Data
The absence of recent sales prevents the calculation of this metric.
Historical Data:
In 2020, two homes were sold in this area. The first sold on 06-03-20 for $460,000, and the second on 09-03-20 for $480,000. The average sales price for homes in this period was $470,000. This historical data might be utilized for comparative analysis once current sales data becomes available.
Analysis:
The real estate market in the specified area of Jurupa Valley is currently dormant, with no new listings, active listings, or closed sales since September of 2020. This might be attributed to various factors which could include economic trends or other localized factors impacting a homeowner's willingness to sell.
For other owners in this area contemplating selling, consider the increased values in the surrounding areas to determine a current market value.
For expert guidance, strategic insights, or a detailed and personalized analysis of your home, or if you have any questions, feel free to contact me.  I am committed to providing accurate and updated information to assist you in all your real estate needs.
Manny Barba
Broker-Attorney-Realtor®
951-990-3998
MB Live Realty, Inc.
Note: All data in this report is from California Regional Multiple Listing Service (CRMLS) All information should be independently reviewed and verified for accuracy. This report is for informational purposes only and not intended as financial or investment advice.