Jurupa Valley 92509
Residential Real Estate Market Update
October 2023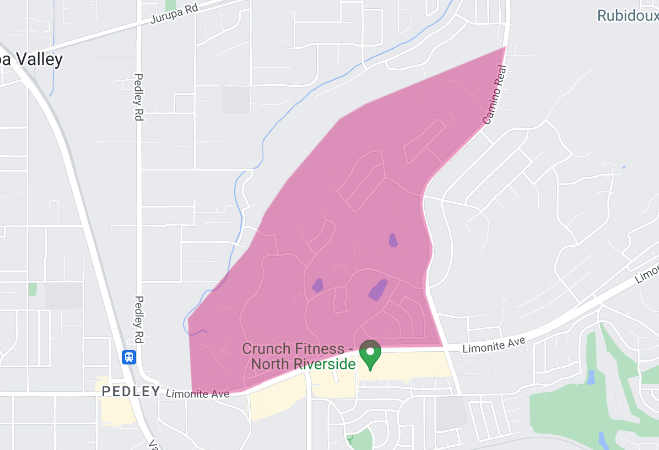 Area of Focus:
6- N of Limonite-W of Camino Real (see map)
As of the end of October 2023, it appears that the market is shifting, marked by notable changes from the previous year and distinct differences from September 2023. This narrative explores the nuances and implications of these changes.
The Shifting Market of October 2023
In October, this residential real estate area painted a picture of contraction and adjustment. Active listings at the end of the month stood at just 4, a striking 60% drop from the previous year, signaling a market with significantly fewer options for potential buyers. This decrease in listings was accompanied by a drastic reduction in new listings, which plummeted by 83.3% to just one. This slowdown in new properties entering the market could be indicative of seller hesitancy or broader market uncertainties.
Despite these contractions, the months supply of inventory slightly decreased by 9.5% to 1.9, hinting at a market that is balancing itself. However, this balance is nuanced. The market saw only one closed sale, mirroring the activity from the previous year, suggesting a consistent but low level of sales activity.
A telling metric of market pace, the average days on market, soared to 38 days, a staggering 375% increase from last year. This dramatic lengthening in selling time reflects a market where buyers are taking their time, and sales are less urgent.
The list to sold price ratio, at 95.6%, showed a modest decrease of 2.3% from the previous year, indicating a slight shift in negotiation power towards buyers.
However, the average sales price in this area experienced a significant downturn, dropping by 46.4% to $630,000.  In contrast, the average price per square foot saw a marginal increase of 1.6%, suggesting some resilience in property value when considered on a smaller scale.
Comparing October with September 2023
September 2023, in contrast, exhibited slightly different market conditions. The end of month active listings and new listings were marginally higher than in October, yet both showed a year-over-year decrease, indicating a broader trend of reduced market entries.
The months supply of inventory in September was slightly higher at 2.2, reflecting a more buyer-friendly market than in October. Closed sales were double that of October's, albeit still representing a significant decline from the previous year.
One of the most striking contrasts comes in the average days on market, which was drastically lower in September at just 12 days, suggesting a much quicker sales pace than in October.
The list to sold price ratio in September was higher than in October, standing at 101.1%, indicating that sellers were getting more than their asking price, contrasting with the more balanced scenario in October. The average sales price was also higher in September, at $662,500, contrasting with the notable drop in October.
Market Implications and Conclusion
This residential area of Jurupa Valley for October demonstrates a marked shift from the previous year and significant differences from the preceding month. The market is showing signs of cooling, with fewer listings, a significant decrease in average sales price, and longer selling times. However, the slight increase in the average price per square foot suggests some underlying resilience in property values.
This narrative is crucial for stakeholders to understand the evolving dynamics, helping buyers, sellers, and investors make informed decisions in a market that is showing signs of change and adaptation.
For a comprehensive understanding of how these trends can impact your real estate decisions, contact me.  I provide expert guidance and strategic insights and can guide you through these interesting times in real estate.
And for a detailed and personalized analysis of your home, or if you have any questions, feel free to contact me.  I am committed to providing accurate and updated information to assist you in all your real estate needs.
Manny Barba
Broker-Attorney-Realtor®
951-990-3998
MB Live Realty, Inc.
Note: All data in this report is from California Regional Multiple Listing Service (CRMLS) All information should be independently reviewed and verified for accuracy. This report is for informational purposes only and not intended as financial or investment advice.