Jurupa Valley 92509
Real Estate Market Update
August 2023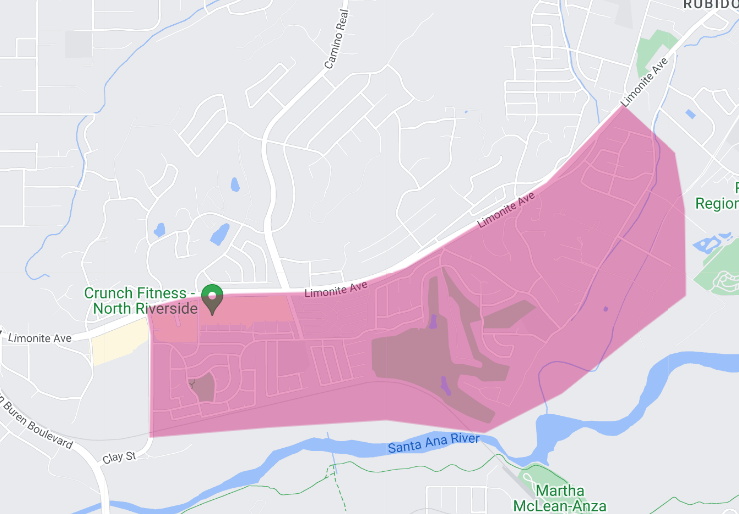 Area of Focus:
5- East of Clay, South of Limonite (see map)
Summary:
This August 2023 report provides a comprehensive overview of the residential real estate market in the southern portion of Jurupa Valley, specifically the residential areas east of Clay, and south of Limonite (see map).  The analysis focuses on key metrics including active listings, new listings, months supply inventory, closed sales, and various pricing indices, comparing the current data to the same month in the previous year.
Key Findings:
Active Listings:
End of month active listings decreased dramatically by 80%, standing at 2 in August 2023 compared to 10 in August 2022.
New Listings:
This residential area experienced a 50% increase in new listings, with 6 properties listed in August 2023 compared to 4 the previous year.
Months Supply of Inventory:
Months' supply refers to the number of months it would take for the current inventory of homes on the market to sell given the current sales pace. Historically, six months of supply is associated with moderate price appreciation.  Less than six months levels are generally a sellers' market, because these lower levels tend to push prices up more rapidly.  More than six months levels are a buyers' market, as home prices tend to soften due to the increased competition of having more homes for sale on the market.
Here, the months' supply of inventory contracted significantly from a year ago, indicating a more competitive market. It was halved to 0.5 months in August 2023 from 1.5 months in August 2022.
Closed Sales:
There was a slight dip in closed sales, down by 16.7%, with 5 sales concluded in August 2023 compared to 6 in the previous year.
Average Days on Market:
Properties lingered longer on the market. The average days on market increased by 63% to 44 days in August 2023, up from 27 days in August 2022.
List to Sold Price Percentage:
Sellers received slightly less than their asking price, with the list to sold price percentage decreasing to 97.6% in August 2023 from 98.2% in August 2022.
Average Sales Price:
The average sales price saw an 8.5% increase, rising to $622,800 in August 2023 from $574,000 in the same month the previous year.
Average Price per Square Foot:
The average price per square foot increased by 14.1%, reaching $396 in August 2023 compared to $347 in August 2022.
Analysis:
The southern portion of Jurupa Valley, specifically the east of Clay/south of Limonite residential real estate market has become notably more competitive in August 2023 as compared to the same period last year. A significant drop in active listings and a lower months supply of inventory highlight a seller's market where demand is outpacing supply.
While the number of closed sales has decreased slightly, the rise in the average sales price and price per square foot underscores a market where property values are appreciating. However, with properties staying longer on the market and a slight drop in the list to sold price percentage, it appears buyers are taking more time to make decisions and negotiating harder on price.
Conclusion:
For sellers, this is an opportune time to list properties as rising prices and limited inventory can result in favorable sales conditions. For buyers, while the market is competitive, the increased days on market suggests there may be room for negotiation.
For a detailed and personalized analysis of your home, or if you have any questions, feel free to contact me.  I am committed to providing accurate and updated information to assist you in all your real estate needs.
Manny Barba
Broker-Attorney-Realtor®
951-990-3998
MB Live Realty, Inc.
Note: All data in this report is from California Regional Multiple Listing Service (CRMLS) All information should be independently reviewed and verified for accuracy. This report is for informational purposes only and not intended as financial or investment advice.