Jurupa Valley 92509
Residential Real Estate Market Update
September 2023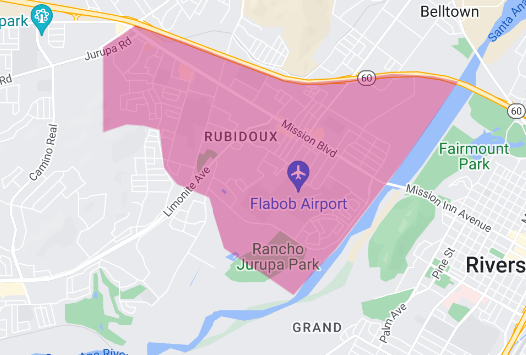 Area of Focus:
03-Rubidoux-S of 60 frwy (see map)
The following market update provides insights into the real estate landscape for homes
in the Rubidoux area, south of the 60 Freeway. Analyzing the metrics for September 2023, we observe significant shifts and opportunities for both home buyers and sellers.
 End of Month Active Listings:
The area reported 9 active listings ending September, a substantial decrease of 57.1% from the previous year. This reduction signals a more competitive market environment, with fewer options for prospective buyers.
New Listings:
There were 5 new listings in September, representing a 54.5% decrease year-over-year. A lower influx of new properties for sale continues to tighten the market.
Months Supply of Inventory:
The inventory is at a 1.5-month supply, marking a 40.0% reduction from last year. This metric represents the number of months it would take to sell all the available homes on the market, given the current sales pace. A lower number indicates a seller's market, where demand outweighs supply. This figure highlights the accelerated pace of the market and potential upward pressure on prices.
Closed Sales:
7 properties were sold in September, a 36.4% decline from the same period last year. Despite reduced inventory, consistent sales activity indicates sustained buyer interest.
Average Days on Market:
Properties are selling faster, with an average of 17 days on the market, down by 52.8% from last year. Buyers are moving quickly amidst limited inventory.
List to Sold Price %:
Homes are selling at 103.5% of the list price, a 7.6% increase year-over-year. This uptrend underscores strong buyer demand and a competitive market dynamic.
Average Sales Price:
The average sales price has grown to $512,000, marking a 2.8% increase from last year. This moderate increase indicates steady appreciation amidst a competitive market.
Average Price per Square Foot:
Standing at $403, the average price per square foot has risen by 2.0%. This increase aligns with the general appreciation in property values.
Summary:
September 2023's market update reveals a contrasting landscape of decreased inventory and listings, alongside quickening sales pace and moderate price appreciation.
The substantial reductions in active and new listings, coupled with the rapid pace at which homes are selling, emphasize a seller's market characterized by heightened competition among buyers.
The increase in the list to sold price percentage and the average sales price underscores the competitive nature of the market in this area. Buyers are paying premiums, likely due to bidding wars spurred by limited inventory.
Looking Ahead:
For sellers, this is an opportune time to consider listing, as market conditions are favorable with faster sales times and prices above the list. Buyers need to be prepared to act quickly, with pre-approved financing and flexibility in terms, to secure properties in this competitive landscape.
The coming months will be pivotal in observing whether inventory levels adjust to meet buyer demand, potentially stabilizing price growth and the overall pace of the market.
For expert guidance, strategic insights, or a detailed and personalized analysis of your home, or if you have any questions, feel free to contact me.  I am committed to providing accurate and updated information to assist you in all your real estate needs.
Manny Barba
Broker-Attorney-Realtor®
951-990-3998
mail@mbliverealty.com
MB Live Realty, Inc.
www.mbliverealty.com
Note: All data in this report is from California Regional Multiple Listing Service (CRMLS) All information should be independently reviewed and verified for accuracy. This report is for informational purposes only and not intended as financial or investment advice.