Jurupa Valley 91752
Residential Real Estate Market Update
October 2023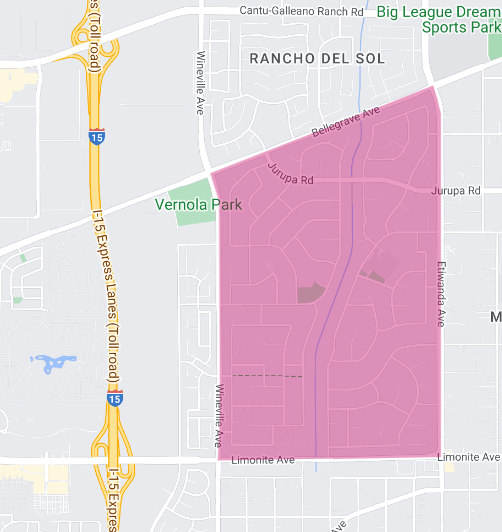 Area of Focus:
17- Sky Country  (See Map)
As we close the month of October, here is an update on the residential real estate market specifically for the Sky Country tract of homes. The following is a breakdown of the key metrics:
End of Month Active Listings:
As of the end of October, there were 3 active listings in Sky Country, mirroring the number we had at this time last year.
New Listings:
We welcomed 2 new listings in October. Interestingly, this is consistent with the number of new listings we had in October 2022.
Months Supply Inventory:
Notably, the inventory supply stands at 1.5 months, indicating an increase of 36.4% from the previous year. This suggests a shift moving towards a buyer's market in the Sky Country area.  Nevertheless, it is still clearly a sellers' market and far from a buyers' market.
Closed Sales:
In October, there was 1 property that successfully closed its sale. This represents a significant drop of 75% from the previous year, hinting at a more cautious approach by buyers as well as fewer sellers in the market.
Average Days on Market:
Homes in Sky Country are spending an average of 25 days on the market before being sold. This is a 13.8% decrease from last year, suggesting that while there might be fewer sales, the homes that do list are moving at a brisk pace.
List to Sold Price %:
Homes are selling at their listed price, with a list to sold price percentage of 100.0%. However, this is an 18.6% decrease from last year, indicating a possible slight shift in negotiation dynamics.
Average Sales Price:
The average sales price for homes in Sky Country this October stood at $850,000. This shows a moderate decrease of 2.8% from the previous year.
Average Price per Square Foot:
On a brighter note, the average price per square foot is $486, marking an impressive increase of 17.1% from last year. This signals a growing value appreciation for properties in the Sky Country area.
Conclusion:
In summary, while the Sky Country tract of homes has seen varied trends in different metrics, it remains a dynamic and valuable area in the Jurupa Valley residential real estate market.
For a comprehensive understanding of how these trends can impact your real estate decisions, contact me.  I provide expert guidance and strategic insights and can guide you through these interesting times in real estate.
For expert guidance, strategic insights, or a detailed and personalized analysis of your home, or if you have any questions, feel free to contact me.  I am committed to providing accurate and updated information to assist you in all your real estate needs.
Manny Barba
Broker-Attorney-Realtor®
951-990-3998
MB Live Realty, Inc.
Note: All data in this report is from California Regional Multiple Listing Service (CRMLS) All information should be independently reviewed and verified for accuracy. This report is for informational purposes only and not intended as financial or investment advice.