Jurupa Valley 91752
Residential Real Estate Market Update
September 2023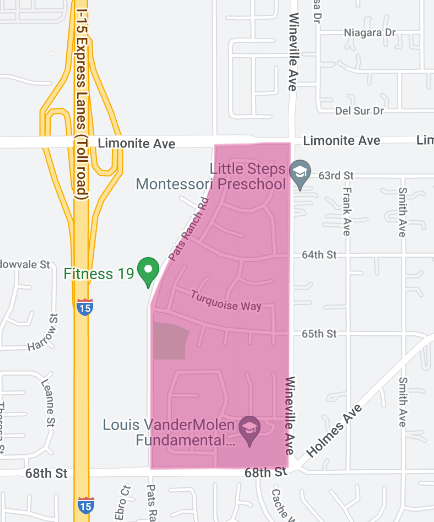 Area of Focus:
15 – Mira Loma – Pats Ranch Rd – S of Limonite (See Map)
The following market update for September 2023, sheds light on the residential real estate trends in the area of Pats Ranch Rd., south of Limonite Ave., and west of Wineville Rd., in the City of Jurupa Valley. This in-depth analysis serves as a resource for homeowners, buyers, and investors to navigate the current market with confidence.
End of Month Active Listings:
The area noted 2 active listings, showing no change from the previous year, underscoring a stable yet limited inventory.
New Listings:
A positive resurgence is noted with 2 new listings compared to none last year, providing more options for potential buyers.
Months Supply of Inventory:
Inventory slightly edged up to a 1.2 months supply, marking a 9.1% increase year-over-year, indicating a modestly enhanced availability of homes. Remember, this metric represents the number of months it would take to sell all the available homes on the market, given the current sales pace. A lower number, as here,  indicates a seller's market, where demand outweighs supply.
Closed Sales:
There were no closed sales for the month of September, necessitating a watchful eye on the evolving market trends in the months to come.
Average Days on Market:
Data is not available due to the absence of sales this month.
List to Sold Price %:
The absence of sales also results in no data available for this metric.
Average Sales Price:
Current data is unavailable due to no sales, underscoring the importance of monitoring upcoming trends.
Average Price per Square Foot:
The absence of sales data this month renders this metric unavailable.
Year-to-Date Sales:
From January 1 to September 30, 8 homes sold in this area with an average sales price of $787,375, indicating a robust valuation and demand for homes in the area.
Summary:
This particular area in Jurupa Valley is fairly stable right now. We've been seeing about the same number of houses for sale year after year. And after a quiet period last year, more houses are being put up for sale, which shows that things are picking up. But in September, we didn't see any houses actually being sold, so the market is still changing.
Looking ahead:
For sellers, it's a good time to sell because the overall market is tight.  But you need to be smart about how you price your house and how you market it to attract buyers.
For buyers, there are more listings which equals more options available now. But since not many houses were sold in September, you should be careful and do your research before making a quick decision because there aren't too many houses to choose from.
In the coming months, it will be important to keep an eye on how many houses are being sold, how prices are changing, and if there are more or fewer houses available. This information will help you make better decisions if you're buying or selling a house.
For expert guidance, strategic insights, or a detailed and personalized analysis of your home, or if you have any questions, feel free to contact me.  I am committed to providing accurate and updated information to assist you in all your real estate needs.
Manny Barba
Broker-Attorney-Realtor®
951-990-3998
mail@mbliverealty.com
MB Live Realty, Inc.
www.mbliverealty.com
Note: All data in this report is from California Regional Multiple Listing Service (CRMLS) All information should be independently reviewed and verified for accuracy. This report is for informational purposes only and not intended as financial or investment advice.