Jurupa Valley 91752
Residential Real Estate Market Update
September 2023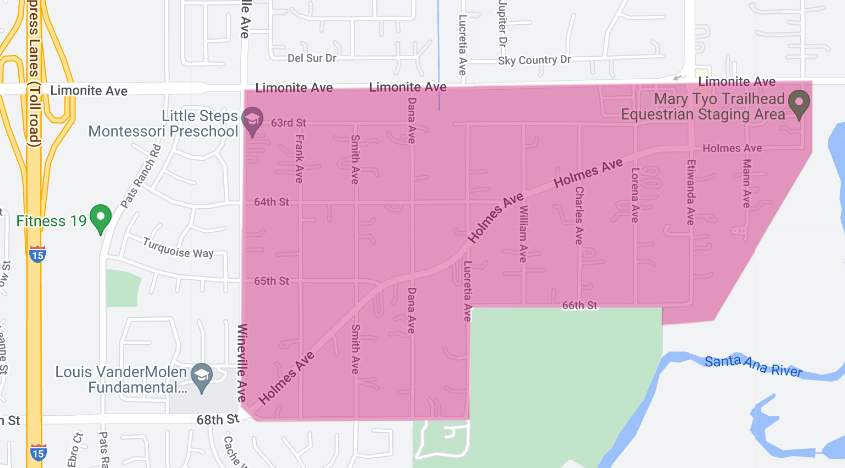 Area of Focus:
13-Mira Loma – S of Limonite (See Map)
This residential real estate market update for September 2023, tailored specifically for the residential area Mira Loma, south of Limonite Ave., in Jurupa Valley.  This analysis aims to empower homeowners, buyers, and investors with the insights needed to make informed decisions.
End of Month Active Listings:
There were 0 active listings at end of September, compared to 3 last year. This shift signifies a complete depletion of available homes on the market in this area.
New Listings:
The market observed 0 new listings for the month of September, a decrease from 2 listings introduced the previous year. The absence of new listings underscores a highly constrained market.
Months Supply of Inventory:
There is no data available due to the absence of active listings, indicating an extreme seller's market.
Closed Sales:
There were no closed sales this month, compared to 1 sale last year. The lack of sales aligns with the absence of inventory.
Average Days on Market:
Data is not available due to no active listings or sales.
List to Sold Price %:
 No data available, correlating with the absence of sales transactions.
Average Sales Price:
There's no current data on the average sales price due to no sales transactions this month.
Average Price per Square Foot:
Due to the absence of sales, no data is available for this metric.
Past 6-Month Sales:
 In the last 6 months, 4 homes were sold, with an average sale price of $666,250, indicating a persistent demand and value appreciation in the area despite the current lack of inventory.
Summary:
The September 2023 market update for the Mira Loma, south of Limonite area reveals an extremely tight market, characterized by a total absence of active and new listings. This unprecedented contraction of the market is indicative of a market with pent-up demand, where available properties are quickly absorbed.
The sales data from the past 6 months shows that 4 homes sold with an average sale price of $666,250.  This underscores the area's attractiveness and the potential for significant returns for prospective sellers.
 Looking Ahead:
Sellers in this area are in a privileged position. The current lack of inventory presents a golden opportunity to command premium pricing, given the evident demand.
For buyers, the scenario is challenging. With no current inventory, prospective buyers need to be highly vigilant and ready to act swiftly as soon as properties become available. Pre-approval for financing and flexibility in terms can be a distinct advantage.
The uber tight market here calls for strategic navigation. Monitoring the emergence of new listings, pricing trends, and the broader economic landscape will be essential for both buyers and sellers to optimize their strategies.
For expert guidance, strategic insights, or a detailed and personalized analysis of your home, or if you have any questions, feel free to contact me.  I am committed to providing accurate and updated information to assist you in all your real estate needs.
Manny Barba
Broker-Attorney-Realtor®
951-990-3998
mail@mbliverealty.com
MB Live Realty, Inc.
www.mbliverealty.com
Note: All data in this report is from California Regional Multiple Listing Service (CRMLS) All information should be independently reviewed and verified for accuracy. This report is for informational purposes only and not intended as financial or investment advice.