Jurupa Valley 91752
Residential Real Estate Market Update
October 2023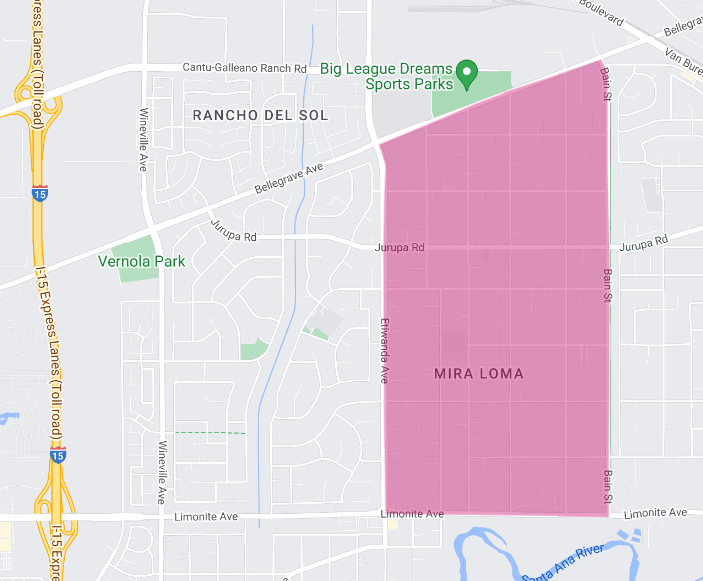 Area of Focus:
12-Mira Loma-Central (See Map)
This report analyzes the residential real estate market in the central Mira Loma area of the City of Jurupa Valley as of the end of October 2023.
End of Month Active Listings
Current Status: Remarkably, there were zero active listings at the end of October.
Yearly Comparison: This is a complete reduction (-100.0%) compared to last year, indicating a total absence of available properties on the market.
New Listings
Current Status: Similar to active listings, there were zero new listings for the month. Yearly Comparison: This also marks a -100.0% change from last year, reflecting an unprecedented halt in new property offerings in the area.
Months Supply Inventory
Current Status: There is no available data for the months' supply of inventory, which could be due to the absence of active and new listings.
Closed Sales
Current Status: There was only 1 closed sale in October.
Yearly Comparison: Unfortunately, there is no comparative data from last year for this metric.
Average Days on Market
Current Status: The property that was sold stayed on the market for an average of 26 days. Yearly Comparison: Again, there is no data from the previous year to compare this figure with.
List to Sold Price Percentage
Current Status: The list to sold price percentage averaged at 101.8%.
Yearly Comparison: As with several other metrics, there's no data from last year to establish a trend or comparison.
Average Sales Price
Current Status: The average sales price for the single property sold was $855,000.
Yearly Comparison: No comparative data from the previous year is available.
Average Price per Square Foot
Current Status: The average stood at $421 per square foot.
Yearly Comparison: Comparable data from last year is absent.
Interpretation and Market Implications
The real estate market in central Mira Loma, Jurupa Valley, for October 2023, is marked by a complete absence of active and new listings, a rare scenario indicating a highly constrained market.
The 100% reduction in listings compared to last year suggests a dramatic shift in market conditions, potentially driven by unique local factors.
The single closed sale indicates that while transactions are scarce, properties that do come onto the market can sell. The above 100% list to sold price ratio suggests that properties may receive offers exceeding their listing prices, possibly due to the extremely limited availability.
The average days on market for the sole property sold was 26 days, which is relatively moderate, indicating that while the property did not sell immediately, it did not linger for an extended period.
In terms of pricing, the average sales price and price per square foot appear to be on the higher end, though without comparative data from the previous year, it's challenging to contextualize these figures within broader market trends.
Conclusion
In summary, October 2023 in central Mira Loma presents an extraordinary real estate market situation, characterized by an absolute lack of listings and extremely limited sales activity. This unique market condition necessitates careful monitoring in the upcoming months to understand the underlying factors and potential shifts in market dynamics.
For a comprehensive understanding of how these trends can impact your real estate decisions, contact me.  I provide expert guidance and strategic insights and can guide you through these interesting times in real estate.
And for a detailed and personalized analysis of your home, or if you have any questions, feel free to contact me.  I am committed to providing accurate and updated information to assist you in all your real estate needs.
Manny Barba
Broker-Attorney-Realtor®
951-990-3998
MB Live Realty, Inc.
Note: All data in this report is from California Regional Multiple Listing Service (CRMLS) All information should be independently reviewed and verified for accuracy. This report is for informational purposes only and not intended as financial or investment advice.