Jurupa Valley 92509
Residential Real Estate Market Update
October 2023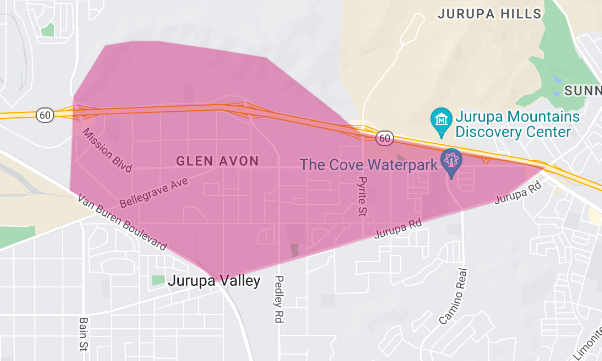 Area of Focus:
10- Glen Avon-NE of Van Buren-N of Jurupa Rd (See Map)
This report provides an in-depth analysis of the residential real estate market for October 2023 in the Glen Avon area, specifically northeast of Van Buren Blvd and north of Jurupa Rd in the city of Jurupa Valley.
We focus on various key metrics to understand the market dynamics compared to the previous year.
End of Month Active Listings:
There were only 8 active listings at the end of October 2023. This represents a significant decrease of 63.6% compared to the same period last year, indicating a substantial drop in available properties.
New Listings:
The market saw 6 new listings during the month. This is a 25.0% decrease from the number of listings introduced in the market a year ago, suggesting a slowing down in new property offerings.
Months Supply Inventory:
The inventory stood at 1.5 months.  There is a marked reduction of 61.5% from last year, indicating a tighter market with fewer choices for buyers.
Closed Sales:
October saw 2 closed sales for this area.  This contrasts sharply with the same period last year, where there were no closed sales, hinting at some revival in sales activity.
Average Days on Market:
Properties spent an average of 46 days on the market before being sold.  Unfortunately, there is no comparative data available from last year to draw a direct comparison.
List to Sold Price Percentage:
The average list to sold price percentage was 76.3%.  Again, we lack previous year's data to establish a trend.
Average Sales Price:
The average sales price for homes was $597,279. Like several other metrics, there is no data for October of last year to compare this figure with.
Average Price per Square Foot:
The average stood at $326 per square foot.  Again, lacking comparative data from the previous year for the month of October, it's challenging to ascertain the trend.
Conclusion
The residential real estate market in Glen Avon, Jurupa Valley, for October 2023, has exhibited some intriguing trends. The significant reduction in active listings and new listings compared to last year suggests a market that is contracting in terms of availability. The decrease in months supply inventory further emphasizes this point, indicating a market favoring sellers, with fewer options available to buyers.
Despite these constraints, the market showed some signs of activity, evidenced by the closed sales, which were absent in the previous year. However, the longer average days on market could imply a degree of buyer hesitancy or pricing misalignment.
Without comparative data for several metrics from the previous year, it's challenging to establish a clear trend for metrics like the average sales price or the list to sold price percentage. This lack of historical data limits our ability to draw definitive conclusions about the market's direction, especially regarding pricing trends.
In summary, October 2023 in the Glen Avon area has been a period of reduced market activity with a tightening of available inventory, suggesting a potential shift in the market dynamics that warrants close monitoring in the coming months.
For a comprehensive understanding of how these trends can impact your real estate decisions, contact me.  I provide expert guidance and strategic insights and can guide you through these interesting times in real estate.
And for a detailed and personalized analysis of your home, or if you have any questions, feel free to contact me.  I am committed to providing accurate and updated information to assist you in all your real estate needs.
Manny Barba
Broker-Attorney-Realtor®
951-990-3998
MB Live Realty, Inc.
Note: All data in this report is from California Regional Multiple Listing Service (CRMLS) All information should be independently reviewed and verified for accuracy. This report is for informational purposes only and not intended as financial or investment advice.